Participating Professional and Student Arts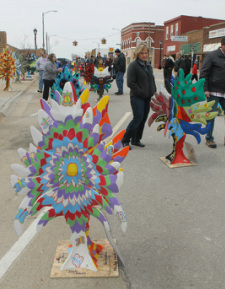 The following artists were selected by a panel of judges to bring to life their maquette designs on the full-size 6' trees for An Enchanted Arboretum. Congratulations to those artists below and thank you to all of the artists who submitted.

The list below also includes all of the Nebraska City students, whose designs were chosen from the 1000+ maquettes created by students participating in this public art project. Four high school student designs were recreated on 6' sculptures, while 46 designs by students grades, 1-8, were realized on 4' sculptures.

In of September 2013, all the sculptures were auctioned off to raise funds for future community development efforts. The 25 six-foot trees are now permanently installed at outdoor locations chosen by their new owners. The 46 four-foot were purchased by a number of local businesses and individuals for inside homes and backyards.
---
6' SCULPTURES
JURIED PROFESSIONAL ARTISTS
Michele Angle-Farrar, The Nourishing Tree
Jenni Brant, A Natural Tapestry
Mindy Burton, rEVOLVE
Sharon Cech, Why the Crow's Feathers are Black
Eliska Greenspoon, Spring Awakening in Blue
Greg Holdren, Missing Trees
Sue Kalicki, Do You See the Forest or the Trees?
Sue Kalicki, Seasons of Life
Sue Kalicki, Growth Rings
Evelyn Katz, Tree Dreaming
Jane Langenfeld & Students of Mercy High School-
Omaha, Four Facets of Nebraska
Phyllis Maly, the oooh-aaah tree
Janelle McKain, Spirits of the Wind
Sharon Ohmberger, Elementals
Terra Rathai, The Never-Ending Wood
Max Reis, Temptation
Coby Renard, Green Machine
Shelley Stoltenberg, Solinox
Franny Upp, Silver Hue
Ann Williams, Seasons of Color
Ann Williams, Elements of the Season

6' SCULPTURES
HIGH SCHOOL
Magali Martinez Banderas (NCHS), Flowers of Nature
Kenia Balquier (NCHS), Hidden Shelter
Macayla Mucha (Lourdes), Repetitive Tree
Nichole Goebel (NCHS), Elementree

4' SCULPTURES
(NORTHSIDE ELEMENTARY, PUBLIC, K-2 GRADE)
Ashley Argumaniz Robles
Dominick Crewdson
Grace McNeely
Hunter Smyser
Helena Dunn
Halle Thompson
Xander Packett
Colton Snyder
Max Heilbrun
Elizabeth Sanchez
Emilee Marth

4' SCULPTURES, cont.
HAYWARD ELEMENTARY (PUBLIC, 3-5 GRADE)
Hailey Wallace
Myella Jimenez Wichman
Kyler Arthur
Valerie Bennie
Jesse Lopez
Antonio Jimenez Wichman
Ellie Higgins
Colton Smith
Colton Cooper
Kaedan Ford
Lindsey Booth
Noah Russell
Madison Borns
Trey Pursel
Tara Maddox

LOURDES CENTRAL CATHOLIC
Jenna Box, Jacob Lowe, Sebastian Vanegas, & Andrew Smith:
Joey Poon, Kassidy Olson, Gabriela Serna, Lexis Bruns- Morris:
Beau Lee, Caleb Howard, Emma Wigington, Joseph Kearney:
Ryan Roberts, Kaitlyn Howard, Ruby Bruggeman, Gracie Ragland:
Sam Draus, Brianna Fulton, Elizabeth Schnitzer, Jazmin Rodriguez:
Cara Goodman, Ivye Meyer, Paige Stones, Izzie Fedoris
Renee Marcotte:

NEBRASKA CITY MIDDLE SCHOOL
Thomas Kracl
Hyatt Cardon
Abril Ortiz
Bree Bauer
Jonah Harding
Ashley Robinson
Dakota Hanika
Maria Andrade
Brittany Giles
Shelby Anderson
Alyssa Walters
Cara Booth

NEBRASKA CENTER FOR THE EDUCATION OF CHILDREN WHO ARE BLIND OR VISUALLY IMPAIRED
Ian Webster




Donors:
Paul, John, Anton & Doris Wirth Foundation, Karl H. & Wealtha H. Nelson Family Foundation, Kropp Charitable Foundation, Inc., City of Nebraska City (LB 840 Funds), Rotary Club No. 2090, United Way of Nebraska City, Inc.
Partners:
Arbor Day Foundation
, Arts Are Basic
(a partner program of
Doane College
)
, City of Nebraska City
, Icon Poly Studio
, Lourdes Central Catholic Schools
, Kimmel Harding Nelson Center for the Arts
, Nebraska City Tourism and Commerce
, Nebraska City Area Economic Development Corporation
, Nebraska City Public Schools
, Nebraska Center for the Education of Children who are Blind or Visually Impaired (
NCECBVI
)