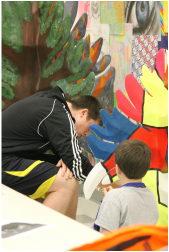 One goal of a public art project is to bring community members together. With Nebraska City's
An Enchanted Arboretum
, that goal has been realized and expanded upon.
An Enchanted Arboretum
will introduce 25 six-foot tree-shaped sculptures made by professional artists and high school students from Nebraska City Public Schools and Lourdes Central Catholic. In addition, 47 elementary and middle school students from the above mentioned schools and also the Nebraska Center for the Education of Children Who Are Blind or Visually Impaired – located in Nebraska City since the late 1800s - have been selected to create four-foot models of the same tree shape. Using mostly acrylic paints, the chosen students have been working on their four-foot trees for the past month.
At the middle school level, the students arrive before school or stay after to complete their work. At Hayward Elementary and Lourdes Central Catholic, students are given a few hours here and there to paint, often with the help of parent and other adult volunteers. Concerned about the logistics of their students completing their trees on time, teachers and administrators at Northside, Nebraska City Public School's early elementary building, hatched a different plan.
Twice a week, on Mondays and Thursdays, the eleven selected Northside students are bused to the Nebraska City High School for an hour of art. The time corresponds with a high school art class and instead of having the students work alone to finish their trees, t
he high school art students are mentoring the young children.
"I love to see the older students and the younger students working together," said Northside principal Tony Little. "I knew this project was going to be an amazing one, but this is a benefit I wasn't expecting."
In addition to fostering relationships, the work between the high school students and six- and seven-year-olds allows the younger generation to learn more about the application of art. Developing a lifelong love of art is one of main components of the Doane College-sponsored
Arts Are Basic
program, which spearheaded
An Enchanted Arboretum.
All the trees, both professional and student-made, are scheduled to be unveiled on Saturday, April 20th, 2013. At 1 p.m. on the lawn of the Otoe County Courthouse* in Nebraska City, a total of 72 trees will be shown to the public for the first time. After the unveiling, the trees will be placed in specific locations throughout the community for a six-month time period. In September 2013, all the trees will be auctioned off, with a stipulation that the six-foot trees remain in Nebraska City.
More information about
An Enchanted Arboretum
may be found at the Facebook page
'An Enchanted Arboretum'
or by emailing Project Coordinator Liz Shea-McCoy at
info@enchantedarboretum.org
.
*Rain location is the Nebraska City Middle School.