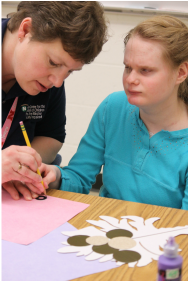 Nebraska City's
An Enchanted Arboretum
art project aims to bring art into the daily lives of students. A unique part of
An Enchanted Arboretum
is its inclusiveness.
Since 1875, Nebraska City has been home to the Nebraska Center for the Education of Children who are Blind or Visually Impaired. The school, known as NCECBVI, is home to blind, visually impaired, and multi-handicapped students from infants up to age 21.
As part of
An Enchanted Arboretum
, each student at NCECBVI has had the opportunity to create their own one-foot maquette. Many of the students have chosen to work with textiles, allowing them to feel their tree come to life. One student mixed sand with his paint to create an extra dimension. Yet another student is covering her maquette in braille, repeating different tree-themed words.
The maquettes created by students at NCECBVI will be on display at the Student Showcase scheduled for Monday, March 4, 2013, from 6:30-8:30 p.m. at the Nebraska City High School. A few students will be chosen to share their vision on a four-foot tree to be unveiled on April 20.
To learn more about NCECBVI, visit their website at
www.ncecbvi.org
.